Only two Billy Joel compilations that span two CDs have been issued so far. I have reviewed the first one here – it is the one named "Greatest Hits Volume I & Volume II". The second definitive compilation was issued in 2001, and it is the one entitled "The Essential Billy Joel".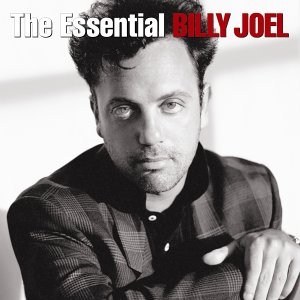 "Greatest Hits Volume I & Volume II" has 35 tracks. "The Essential Billy Joel" has 36. The latter covers every single album he released, the former reaches up to "An Innocent Man". His three final albums are not covered.
There is a very glaring omission as far as the "Essential" compilation goes: "Scenes From An Italian Restaurant" has been neglected. The song is beloved by fans, and while it was never released as a single (the only justification the compilers have for the omission) its relevance within Joel's catalog is something which can never be disputed.
Conversely, since "The Bridge" and the two albums that followed are included the "Essential" discs have "A Matter Of Trust", "We Didn't Start The Fire", "I Go To Extremes" and "The River Of Dreams". These songs are indispensable.
The "Essential" album does not include "You're Only Human" and "While The Night Is Still Young", and that is a good thing. The songs were mere bait for collectors, and even if they charted well I deem them as peripheral to Joel's appeal.
The "Essential" compilation, though, does include two tracks from Billy's 2001 release "Fantasies & Delusions", an album of classical-oriented compositions. These jar a little to be frank, and I don't consider them as either representative of what Billy Joel was known for, nor as a good way to close the compilation.
My overall opinion as regards which album to buy is that "Greatest Hits Vol. I & II" has more discovery potential. That is, if you buy it you will like it and be motivated enough as to buy further albums by Billy. If you buy the "Essential" set that will be mostly it. And in any case, if you want a truly comprehensive overview, you would have to buy "Greatest Hits Volume I & Volume II" and a single disc which was issued a little later on named "Greatest Hits Volume III". Still, both CD sets make a clear case that Joel was a force to be reckoned with in his heyday, and that he seldom misstepped artistically.