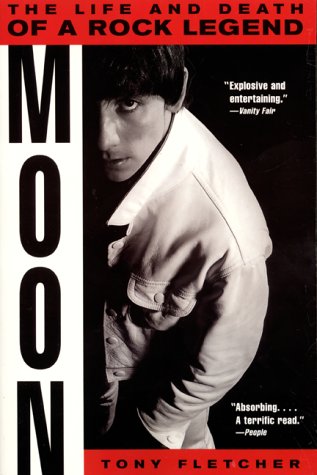 Without a doubt, this is one of the best biographies I have ever set my eyes on. This edition was first published in 1999 by Spike. The enthusiasm and integrity of biographer Tony Fletcher drives the book along its 40 chapters, and he takes upon himself to demolish a myriad of myths and legends along the way.
The Beachcombers were not a surf band. Keith's audition did not take place as we were always told. His 21st birthday party was exaggerated. But Fletcher has a deft way of bringing some much needed light into a life that was to be incredibly aggrandized, explaining how these fabrications are really secondary to Keith Moon as a man and as a musician like no other.
I did spot only one mistake – the date of death of Steve Marriot. Other than that, the 600–page tome seemed quite a reliable source to me. I just wish a filmography had been appended at the end – Fletcher claims he sees no reasons why to add yet more pages to a lengthy book, and I guess he is right to a certain extent.
In terms of photographs, three sections of black and white pictures are featured, and every single facet of Keith is covered. You have him as a baby, as a toddler, drumming with the Beachcombers, as drummer of The 'Oo, dressing up, and smashing the drum kit up. And it is very disheartening to see the shape he was in at the end – not that dissimilar to Elvis Presley.
The book reminds me a little of the film "United 93". You know how it is ending, but as the climax is approaching you think that maybe, somehow, the story will have a different twist and tragedy will not strike. You feel as if human life were something so precious that a miracle will happen. And to be frank, in the case of "Moon: The Life And Death Of A Rock Legend" a sort of miracle does happen. His life is not saved, but after you have read the book and sit through a Who record again you realize what went into his playing. It was not madness, it was not pills, it was not alcoholic mayhem. It was a pure and vibrant heart that wanted to reach out to others. And I wish he only could know how many are listening to him – now, and forever.