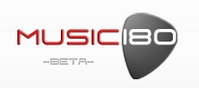 Name: Music180
URL: http://www.music180.com
Music180 is a development platform for artists. What the site does is to connect new musicians with big names in the industry and let them collaborate to the full. For example, young bands can get in touch with renowned producers and cover designers, and strike up a relationship that might end up in them getting their album produced by people who have worked with international superstars.
The site has a database of music pros that have worked with artists of the caliber of Aerosmith, Lady Gaga and Katy Perry, and these indie artists who sign up can have their music brought to their attention. It is all taken from there, and in addition to producers Music180 makes it possible for performers to get in touch with the kind of people who can dream up the right marketing campaign for any musical genre.
A site such as this one, then, will let emerging artists have a true chance of achieving success by forging relationships with world class professionals. As a matter of fact, the artist might not even be signed to begin with. This just exemplifies how much Music180 levels the playing field and rewrites the rules that the industry has always operated by.