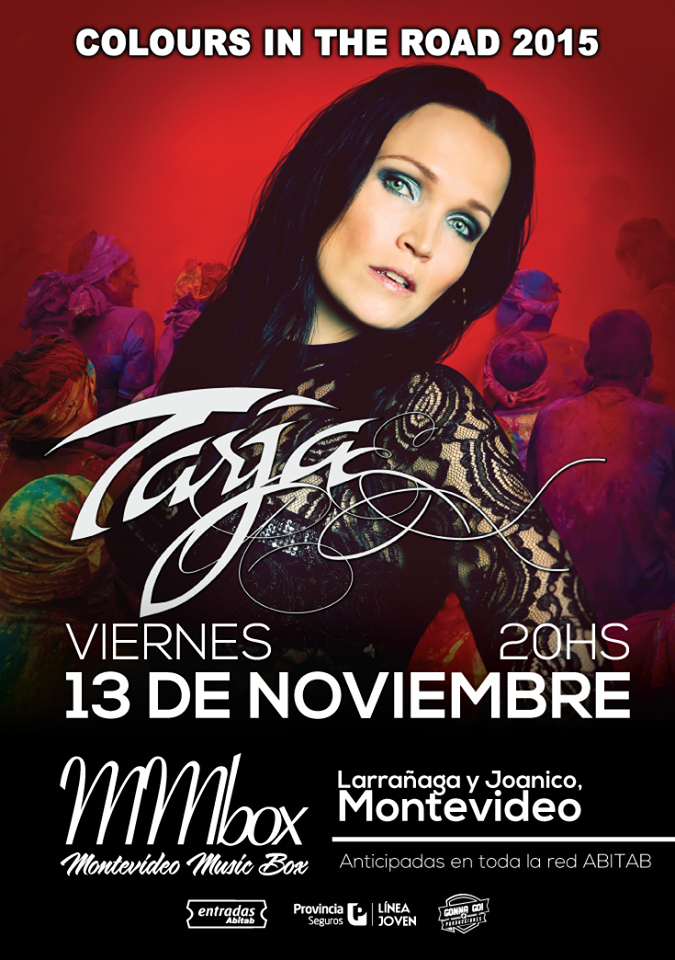 [Versión de esta nota en español]
After rising to prominence as the voice of Finnish metal luminaries Nightwish, singer Tarja Turunen embarked on a remarkable solo career in which South America (more precisely Argentina) became all of a second home to her. The singer has already played in Uruguay before, and she's visiting our country one more time, bringing the "Colours In The Dark" tour to Montevideo Music Box on the 13th of November.
This is the exchange I was privileged to maintain with her as regards the inspiration behind her latest works, and what to expect from her forthcoming show in our country.
As it was only logical, when you started your solo career you placed a strong emphasis on your voice as a soloist, orchestras and choirs. And at the same time, you had to learn how to write songs for a project that basically rested on you. That was a long time ago. Nowadays, after a life devoted to being a professional musician and several albums under your own name, would you say you're freer than ever to do what you want? Or does all that experience somehow limits the choices you can make when crafting new music?
 
I have a beautiful freedom to express myself with my art today. It is so wonderful that I would not change it for anything. The learning process never ends when it comes to music, but it is amazing that it doesn't. I have always been a person willing to progress, so having a solo career is a truly a dream come true to me.
As regards your latest album, which aspects of its composition and overall recording have left you satisfied the most?
I finally found my sound with this album. This is exactly what I was searching for with my previous albums, but now all the bits and pieces are in their correct place and the production process was easy. I love producing my albums, especially now that I have founded my confidence and seen that things are working as I wish. The team I am working with is great and we share the respect and will to make the best out of the work. I think I needed to get the confidence after all these years in order to be able to feel happy with my art. I have been extremely happy to find good people around me.
And how are these aspects translated (and furthered) into your current live show, "Colours On The Road"?
There is a lot of colour in my current shows, like on my "Colours In The dark" album. Actually there is a lot of colour in my life nowadays, and that all is reflected in my art and everything that I do. The musicians I am working with are my friends and we are having just a great time together in the shows. Again, the experience I have after 20 years of career in rock is shown in the shows as confidence and as fun, because I am enjoying the shows more than ever before.
What's your understanding of Uruguayan musical in general, and of Uruguayan metal in particular?
When I got signed with Universal Music Germany some years ago, I saw a poster in their office wall from the band "La Vela Puerca", but never heard their music. I am aware of the tango influence and importance in your country.
Are you playing the same setlist in both countries? Or are there songs that go down better in Uruguay than in Argentina, or that you know (based on your previous tours) that fans in either place are always eagerly looking to?
I am on tour with the "Colours In The Dark" album, so I am presenting in every country and city more or less the same setlist. I cannot be changing the set in the middle of the tour just depending on the places. The tour has been planned in a certain way and the set list has been decided according to that. I will be playing songs from my other albums and some songs from my forthcoming rock album as well.
"Colours" was preceded by a DVD whose title (Act I) already pointed the way to further releases. I know you have already stated there will be more studio albums before another  DVD is released, but do you already have a concept in place for that body of work? Which story would you like these DVDs to eventually tell?
Not really. I haven't decided when and where to film the next live DVD, but as you said, it should happen only after the next studio album. I will be recording shows along the way within the next tours and when the time is right, I will start working on the DVD release. This DVD will definitely follow the concept of my new album and about that you will hear quite soon.
The DVDs are in general a good way to show people my line of work if they haven't been able to witness my shows in person, but they also serve as a great memory for those who have already been visiting my concerts.
And finally, which other artistic aspirations of yours are yet to be realized? If you had the choice, what would immediately top your list of priorities? 
I have an electronic project called "Outlanders" on its way. The album is almost ready and as it is my side project I just have to find a perfect time and format for its release. This project is based on electronic chill out music, classic rock guitars and my vocals. It is something very different to what my listeners have heard me doing so far and it features famous guitar players.
I would love to write a score for a movie one day since movie soundtracks are very big inspiration for me and record another classical album in the near future.
I will be working as a coach in "The Voice" of Finland TV-program in its next season, having a Christmas tour in the end of this year and next year starting to tour with the new rock album during the European festival season. The album release is planned for late European summer 2016. After that I will be touring few years with the album. Of course there will be classical concerts and events as well during these periods, but I can only tell you more about those when they get confirmed.