Kanye West's interruption of Taylor's Swift acceptance speech is one of the viral pieces of content right now. MTV has managed to keep it off YouTube, but a relevant search produces enough remixes and video reactions to keep you watching for hours on end. One of the finest:
This is not the first time Kanye's big mouth blazes off. The remark of him that caused the biggest controversy was the one about President Bush in the aftermath of Katrina:
That video alone has had over 6 million views ever since it was posted online. Note the expression of co-host Mike Myers at the end!
The online community hasn't stopped parodying Kanye's recent outburst. For example, someone created a Twitter avatar that speaks for itself:
But the best thing must be these stills of Kanye interrupting absolutely everybody you can think of. That includes politicians, sportsmen and even video game characters.
Below you will find my personal favorites: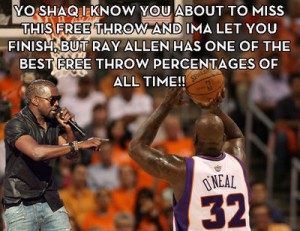 And best is saved for last: