Not only did Seattle give us the best grunge music ever in the shape of Nirvana, Pearl Jam, Soundgarden and Alice In Chains, not only was it the birthplace of Jimi Hendrix, not only did it regale us with the talents of Bill Frisell, the city was actually the home to one of the best alt rock bands of the '90s: The Posies.
The band formed in 1986 and it has undergone several transformations and periods of inactivity (they are now about to release a new album – titled "Blood/Candy", it's coming out on Rykodisc at the end of September). Its core member have always been Ken Stringfellow and Jon Auer, and I had the immense pleasure (not to mention the honor) of meeting Ken face to face when he played in Uruguay in the summer of 2009. He was such a humble and engaging person that even to this day the friend who accompanied me to the gig can but tell me when we meet and there is a minute of silence "¡Fa! ¡Qué bueno que estuvo lo del Ken!" [¡Man! ¡Ken's gig was the bee's knees!].
That day, I was lucky to have him sign my copies of The Posies' first anthology, "Dream All Day" and what was then his latest album: "Smoking Kills".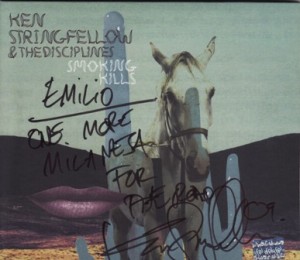 I'd like to tell you a little about "Dream All Day" now. The compilation was released in the year 2000, at a time in which the band was inactive. It did include tracks from their three major label albums (they were signed to DGC, an imprint of Geffen Records). These albums are "Dear 23" (1990), "Frosting On The Beater" (1993) and "Amazing Disgrace" (1996). No tracks were included for the independent albums "Failure" (1988) or "Success" (1998), and the live disc "Alive Before The Iceberg" was also bypassed by the compilers.
What remains is an anthology that has their major radio hits: "Dream All Day" (it hit #4 at the time of its release, when grunge was all the rage), the beautifully-harmonized "Suddenly Mary" and "Golden Blunders". The latter was not a bondafide hit, but it was covered by Ringo Starr within weeks of being released as a single. Continue reading →