(English version of an article first published on Cooltivarte.com. You can read the original post here)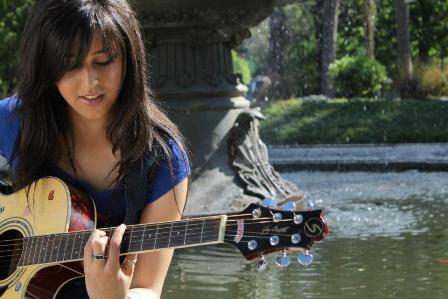 A young Uruguayan singer and composer, Nadia Costa started studying music formally in 2004. That year, she began learning how to read and write music, and how to play the guitar. She started penning her own compositions soon afterwards, writing a series of ballads and pop rock numbers (the genre she relates the most to).
By now, she has already been a member of several bands such as Sadirban (2005), Sueños (2009) and El Cardenal Sebastián (2010). With these bands, she's taken to the stages of venues like El Tartamudo, Apartado Bar, Bluzz Bar and La Comuna. And she's also played the Hotel Sheraton, and many shopping centers in the country. In early 2012 she was chosen as a contralto singer for the choir Coro Fermata.
Nowadays, Nadia Costa is recording her first solo album. This will include 13 original compositions, and this interview is a way to bring you closer both to that specific project, and to Nadia herself.
Q: Tell us a little about who you are and what you do, so that people who are completely new to you can have an idea what to expect from your art.
My name is Nadia Costa. I'm a musician, singer and composer. I'm a girl that's full of dreams, eager to share my songs with the world, and to do what I love most of all: to sing, and to be on a stage, giving my heart to people.
Q: How old were you when you first started writing songs?
A: It's a bit crazy, you know, because when I was a kid I didn't play "normal" games – I used to pretend I was a singer, and when I was 7 I "wrote" my first "song". And that was the coolest thing in the world. But writing songs was just a game then. It all changed when I was about 15 (when I had gone through all the different experiences associated with growing up) that I started writing in a more heartfelt and thorough way. By then, I had begun studying guitar, and I started having more musical ideas. It was then that I came to realize my first song wasn't the one I had written when I was 7. No, the ones I began penning when I was 15 made me become aware that I truly wanted to devote my life to music.
Q: What's your creative process like? How do you write a song?
A: Personally, what I aim to do is to touch people's hearts, to reach out to others in a special way. I want people to take my lyrics to heart, and to be moved by my songs' melodies. When I write, all that I want is to come up with a phrase, a note or a melody that would be of use to others. I want to make them ponder on anything that's bringing them down, so that they can overcome such difficulties. That's the kind of thing I find truly fulfilling.
Q: Which national and international musicians do you look up to?
A: I'm keen on many international artists, for the fact that I like to dip my feet everywhere, and learn a little from everything. Stevie Wonder is someone I'm really fond of. I'm taken by the sonority of his voice and the way in which he sings, that man will never cease to amaze me.
John Mayer is also someone I hold in very high esteem. He's got a very distinctive way of writing, and I love his musical style, the romantic rock he plays.
Then, Shania Twain and Taylor Swift are two female artists I really admire. I love the country pop they play, they've both got lyrics which tell stories that you don't know how will end until the very last verse. As a writer, these are the kind of lyrics that turn me on.
Yet, my biggest musical reference is Luis Fonsi. He's a complete artist. He's got just everything: technique, feeling, emotion, humility and a very characteristic voice – it can be both sweet and aggressive.
And as far as Uruguay is concerned, Rada is a true touching stone for everybody, and someone I had the pleasure of meeting in person. Other artists that I listen to include Fernando Cabrera, Alfredo Zitarrosa, No Te Va Gustar… these are just a couple. There are actually many artists that I listen to and which captivate me. I'm very open-minded in that sense. I listen to pretty much everything.

Q: You're recording you first album, what's the experience been like so far?
A: I'm bringing all of my illusions into that process. I'm enjoying each and every step of it, I'm trying to enjoy it to the full. It's a lengthy process, and it's easy to get anxious along the way. But I'm doing my best to take it calmly. I want the album to shape itself in the way it should, these things take time. And I want everything to turn out as it should, I'm too much of a perfectionist (hehehe). Ideally, the album should be out in early 2014. And live dates should start being added soon. Continue reading →