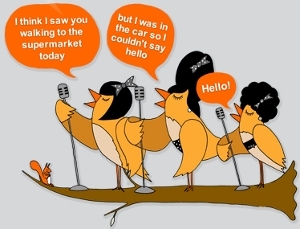 Few marketing campaigns have been as successful as the one run this summer featuring good Old Spice. Both punters and critics loved the antics of the muscle-bound chap who went as far as proposing to a woman for someone who didn't have the courage to do it personally. It was only a matter of time before other marketers would try and up the ante.
Tweetagrams could be deemed as a direct evolution of the Old Spice concept. It was presented by UK-based company Orange, and it let people send tweets to be set to music and recorded by retro grip group The Rockabellas
Those tweets had the hashtag #singingtweetagrams, and they were reviewed by Orange's marketing department. That is, not every tweet had the honor of being recorded. There was a pre-selection process.
The ones who got selected became downloadable from Orange's website, and people were able to do whatever they wanted with them. This included setting them as their ringtones, and sending them out to friends. Continue reading →