First thing first, today I'm announcing the winners of last month's competition. As I'm sure you remember, readers were asked to submit artwork inspired by MusicKO's logo. The response was extraordinary, and for that I'm exceedingly grateful. I received so many submissions (and I had to go through all of them one by one) that I had the perfect excuse for not stepping out of my garret in a fortnight.
When I did, I found out that my whole family had gone and left me (which was just a small collateral), and that I had missed the season finale of "Dexter" (which was not). Regardless of that, I've had the time of my life!
Anyway, these are the lucky winners of our latest compo:
Third Place:
This image was submitted by a fan of One Direction, obviously irate because of all my recent posts in which I (allegedly) made fun of the boys. And to think I've made it crystal clear that (to some extent) I actually like them. Sigh…

Calm down, girl. Easy does it. Go to the toilet, or something.
You know what? I'll give you a piece of advice, a true pearl of wisdom for free: next Halloween, disguise yourself as a bell and see if someone hits you. I hope it works!
Second Place:
Someone from South America sent this in:
Yes, I know. It's captioned in Spanish.
So what? Have you got a problem with that???? MUSICKO IS AN INTERNATIONAL BLOG!!!!!
Capitalist pigs! Bastards! Learn some Spanish! Or go follow the chicken, cross the street, and fuck your mother!
First Place:
This came from some far-flung country, I don't know what the text says, but who gives two wanks?

(Five, actually)
(Ten)
(OK, fifteen)
If you are the person who submitted any of these images, then you'll get a voucher by the hallowed sponsors of this blog (namely the Brill Building Society) in six month's time. And if you haven't received your voucher by then, don't panic. All you must do is to visit the nearest Army of Salvation office, and ask them to help you out. (Remember that these offices are open from 1:00 AM to 3:00 AM only, and that you must wear fuchsia and magenta to be granted access to the premises).
The Brill Building Society.
The Army of Salvation.
Yes, I've got ties with all these organizations.
And plenty more.
I do.
Honestly.
MUSICKO IS AN INTERNATIONAL BLOG.
And because MUSICKO IS AN INTERNATIONAL BLOG, I cover Uruguayan artists! Yes! Uruguayan! From Uruguay! We rock! We roll! We twist! And we do the alligator!
And today, it's the time to write about a lady! At last! I've been writing about boys for so long that the main page of this blog looks like a Russian submarine by now!
Her name's Lucía González, and she has just released her first CD. The song "Please" has been chosen as its first promotional cut, and you can watch the accompanying music video below. It basically stars Lucía and her dog, Minnie.

The song was written and produced by Gabriel Casacuberta (who in fact helmed/co-wrote the whole record), and it's an amiable mix of folk, pop and rock, held together by a steady bass and lyrics which nail the subject of love that's clearly forthcoming but which still hangs on the faultline in a very supple way.
"Please" is also included on the soundtrack for "La Casa Muda" [The Silent House], a Uruguayan movie that's had the distinction of being licensed all over the world (a first for a Uruguayan flick).
Somebody has already criticized "Please" for "lacking oomph". Pfff. Do me a favour, dude. Listen to Robert Wyatt's "Shleep" for something that lacks oomph! And while you're at it, look for a high pine, and hang yourself by the balls, dimwit!
I love "Please". It sends me tripping. It does. I actually wrote all of the above while listening to it, so that's no understatement. Talk about filling the crystal ship!
It must be remarked, however, that the song is definitely a grower. It's not the kind of composition that goes over your head the first time you listen to it. You'll have to listen to it two or three times to fully connect with it.
And Lucía's absolutely divine, but that goes without saying.
I will, however, tell you this:
New year's resolutions are easy to make, and even easier to break. But I hereby declare that my number one priority in 2013 is having my picture taken with her! I won't rest until I've done it! I'll set Chris Rea's "Still So Far To Go" as my alarm tone for every single day of the year until that picture has been shot! I will!
Because all I need is that picture to have a full set! I've been photographed with everybody and his wife by now, and I mean it! Artists from Uruguay, and abroad.
Because MUSICKO IS AN INTERNATIONAL BLOG!!!
Don't believe it? Well, take a look. I've already had my picture taken with numerous members of One Direction.
These photos were taken just the other week, while the lads were playing at Newcastle-Upon-Tyne.
Getting the first one was comparatively easy, all these brainless directioners were after Harry, Zayn and Niall. There wasn't a person close to Liam in miles, so I managed to briskly walk up to him, and ask him for a photo. Dude, it was amazing. What a pity he is by far the most redundant member of the band, but that's just the way it goes.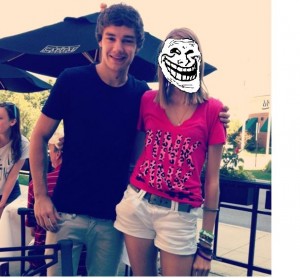 And then, I moved up to Harry, and I had my picture taken with him as well There were so many people around him that I actually had the time to go back home, change my clothes and even dye my hair a lighter hue!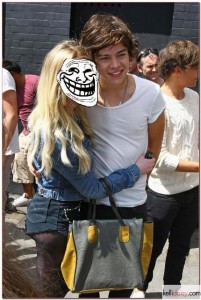 I'm in heaven!!
Speaking of which…
BONUS TRACK!! BONUS TRACK!!!!
ATC!! Performing "I'm In Heaven When You Kiss Me"!! Lip-synching the heck out of it!!! Ha!! Ha!! I'd rather listen to the Abba Teens any day!!!
But the naked damsel covered in fresh fruit at the forefront is a good touch, gotta give them that…
(I almost wrote "stark-naked bitch", but that would have been taking things too far, even by my double-standards)
Oh (and before I forget) Lucía has got her own SoundCloud profile, packed with music and other assorted goodies. Click on Ronan Keating, and you'll be taken straight to it!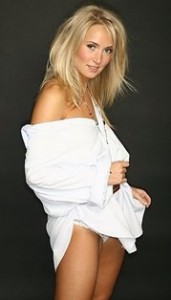 Oops! That's not Ronan Keating! Hehe! Sorry folks! Ronan! Come here! Show your face! Don't be shy! You're the best! Uruguay loves you! Your last album was a pancake of shit, but we still love you anyway! Come on, let's be friends! Play in Uruguay! Fifty people are guaranteed to be in attendance!
Imagine! Such a crowd roaring your name!
Well, it sure beats the cesspool of aimlessness that's "Australian Idol"…
And Lucía will open for you! She will! What else could you ask for?
Ronan! Ronan! Ronan!