Last week I had the chance to interview Angela and Melisa, two young sisters from the City of Carmelo that created SJ FEMALE – a group that covers songs by their favorite K-Pop outfit, Super Junior. As you know, I'm, a big fan of manga and anime, so it was easy for me to sympathize with what they were doing – essaying such a genre in a country like Uruguay (where you really can't look or act differently) is a bold move. And it can also be highly frustrating. Yet, their answers were so full of optimism and hope that I was moved beyond belief when the interview came to an end.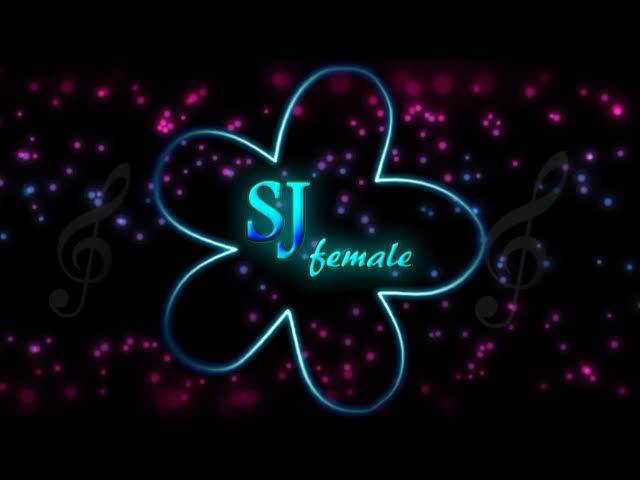 Who created SJ FEMALE?
SJ FEMALE was founded by Angela Cuello (group leader, artistic name "Lee Kutaka Tiaoca") and Melisa Cuello (artistic name Rinku).
Where did the idea to make this group come from? Who are your idols, and the people you look up to?
The idea to make this group came from a dream.
Our leader (Angela Cuello) had a fondness for singing, from a very early age. She loved K-Pop, and she was also keen on dancing. On a summer's day, she set down on paper the idea she had for a group; she wanted to create a cover group of her favorite band, SUPER JUNIOR. She always knew she would not be getting a monetary gain from this. So, she focused on the dream of realizing musical talent while defending interculture and fighting discrimination, she created an international cover group. She gathered girls from all over the world, and chose the voices that could convey the intended message.
Originally, the group was named "RSSSJFO" (Really Summer Song SJ FEMALE Project), and she added her older sister (Melisa Cuello) to the project.  She also invited other friends of her that had a fondness for that music and culture. Angela gathered the singers, classified them, and arranged everything in a way that ensured there was a singer for each member of the original group (SJ).
The group recorded many covers, and when we learned that Super Junior was coming to Argentina on the 23rd of April, we shot a video that was seen all around the world. It came with an English translation, and it revolved around their loved for the band, and how much they lamented not having the money to see their idols perform live.
It was highly frustrating, not being able to go to Buenos Aires when living so close (in Carmelo). Yet, we shed tears of emotion when seeing our idols on TV. It was a short interview, but it was great seeing some recognition come their way in such a foreign territory.
When the summer ended, the group changed shape.  The line-up changed, and so did the name – it became just "SJFEMALE". The new named signaled that we were moving forward, and went from being just a "project" to an official covers group.
Originally, we recorded on a PC, with nothing but a standard mike that really saturated the sound. Eventually, we struck a deal with a recording studio, and had access to its facilities in exchange for some mentions on our own radio show (see below).
Our idols are Super Junior. They are a K-Pop band, they come from South Korea, and on the whole there are 15 members (including the ones from the Chinese unit). They are Leeteuk (the leader, currently serving conscription), Kangin, Eunhyuk, Kibum (who is into acting), Ryeowook, Siwon, Sungmin, HeeChul (who rejoined the group after serving conscription), Kyuhyun, Hangeng (who's no longer in the band, but we want to mention him) and Shindong.
SJ was started on the 6th of November, 2005. The band originally had just 12 members, and their first single was entitled "Twins". Their first line-up included 11 guys from Korea, and 1 member from China.
Their music style includes ballads, pop and hip hop. Super Junior has got many sub-units, and different members handle the vocals in each of these. For example, there is "Super Junior K.R.Y.", in which ballads are the predominant material, as sung by Kyuhyun, Ryeowook and Yesung. Another sub-unit is H (Happy), T (Trot) and M (Mandarian) – this is the Chinese sub-unit. They play what are called "Super Shows", and these are worldwide spectacles. And one of our projects is called "Super Shows For Everybody", and we hope to have Uruguay, Guatemala, Mexico and Spain included in the list of countries in which these shows take place.
To us, Super Junior is a fabulous band. Their members are really humble, they are funny and kind. They are really talented, and we truly hope that one day they are proud of our own interpretations of their songs.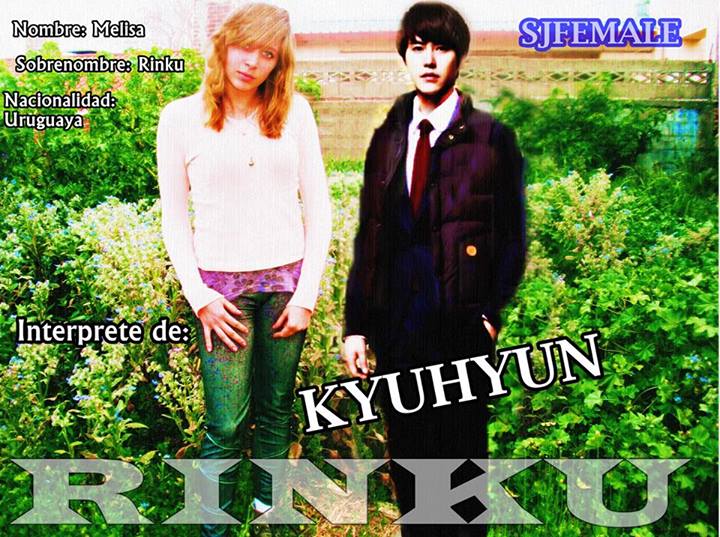 What's the meaning and significance of the band's name?
"SJ FEMALE" stands for "Super Junior Female", underlying the fact that we are a feminine version of our beloved group. Yet, "SJ FEMALE" means something to each one of us, on different levels…
Angela-Lee: To me, "SJ FEMALE" is everything… it's the graphic representation of my dream, and of a dream that's shared. Of an infinite effort that is made, asking nothing in return, but happiness itself. That, and the joy of fighting for these activities others might deem as a hobby, but which are my everything… "SJ FEMALE" has become my family, and it reminds me of a great truth: "he who fights without dreaming is no good, he who dreams without fighting never makes it".
As they say, "we're not professional singers, but we're professional lovers". We have no formal training ourselves, we can't afford it yet.  We sing with a loving feeling that's both deep and sincere… to us, SJ stands for much more than it might seem from the outside.
It's the proof that there's nothing you can't achieve if you want to. All you must do is work on it, exert yourself and (before you know) you'll be there already. SJ FEMALE is my inspiration… for SJ FEMALE I do what's impossible, not what's possible.
Melissa: it means love, commitment, a family, a dream, a way of fighting for values of equity and cultural diversity. We do just any kind of artistic gesture for Super Junior, not just singing. More than anything, we love. SJ FEMALE has changed my life.
What reception have you had? How does SJ FEMALE ft in the current Uruguayan musical scene?
That's a tricky question… well, it isn't, actually [laughs]. The truth is, we've had conflicts in many parts of the world. Some people bullied us, we faced mockery…  But we also found supportive people, and they helped us in any way they could. In Uruguay, a show that deals with the latest news and named "Tiranos Temblad" [Tirans Beware] has reported on us many times already.
SJ FEMALE is trying to become a part of the Uruguayan scene, and we hope to participate in an event where we could share what we do.
Who are the current members/voices?
Leeteuk: Kutaka
Kangin: KENY
Kyuhyun: Rinku
Sungmin: Carolina
Ryeowook: Kutaka
Yesung: Kutaka
Siwon: Micaela
Shindong: Alejandra
Heechul: Diana
Kibum: Kutaka
Hangeng: Kutaka
Zhoumi: Rinku
Henry: Kutaka
Eunhyuk: Kutaka
Donghae: Florencia
What other activities are you involved with?
We also are the "Tiaoca Group". "Tiaoca" is a play on words on the Spanish expression "Tia Loca" ("Crazy Gal"), and we came with that as a way to make fun of the way in which others are often misunderstood, just for having different . We use the word "Tiaoca" to refer to these people who have artistic interests connected with different cultures (specially Asian ones).
So, what we do as Tiaoca Group is to try and have different cultures incorporated into our own. And we aim to highlight how art itself expresses different conceptions of the world.
In particular, Tiaoca focuses on manga, anime, cosplay, K-pop… that is, these cultural representations which come from Asia. And we have generated a series of cultural endeavors for each and every of these areas.
They are:
Manga and anime workshop: started in 2011 in our home town (Carmelo), this is a workshop where you can learn how to draw manga and anime. What we try to do is to convey our innermost feelings and thoughts via such an artistic form. Attendance is free, and classes are every Sunday from 17:30 to 19:30.
It's directed by Melissa Cuello (Rinku Tiaoca), and she's assisted by her sister Angela (Kutaka Tiaoca). Melina Elcura (Taki Tiaoca) acts as secretary, and we are supported by Lisandro Di Pasquale, who handles everything as far as comics are concerned.
Radio show: broadcast on Radio Carmelo, "Pop World Music" is our own radio show. Its goal is to spread news and events connected with the world of pop music, and genres such as electro pop, k-.pop. Artists like Justin Bieber, Super Junior, Nicki Minaj, David Guetta, One Direction, 2NE1, Madonna and Rihanna are actively featured on the show. And we also share SJ FEMALE's work with our listeners.
Pop World Music is financed by local shops and stores, whose owners help us pay for our radio space in exchange for mentions while the show is on air.
What are your aspirations?
Angela: well… I'll try to be brief, as this is a question that makes me think of so much! [laughs].
First of all, we want to keep moving forward. We make a big effort everyday, singing itself is very difficult, and we have been as accepted as we have been rejected. We are not aloof or egocentric. We are humble people, we want to learn more and more. I'm always looking for a way to help my fellow singers, we are always sharing videos and tutorials with each other.
We really dream to stand on a stage one day, and that many people appreciate our music. And to be ready for our own Super Show, and that Super Junior get to know who we are, and what we do inspired by them.
We are very young, and we know as much. But there's a very mature idea in every one of us, and we aim to grow, in every aspect of life.
Melisa: I hope we can move on and on, and (personally) to improve myself. The day we couldn't go and see Super Junior, my sister told me "we'll see them when the time comes, and it'll be even better!". And today, my life's biggest aspiration is this group… this is art, art is everything that happens when you let your heart speak.
Last but not least, what advice can you give to young people in Uruguay who want to devote themselves to art?
Angela: my advice is, never surrender. Keep moving forwards regardless of what other people say, don't ever put your emotions aside, much less your dreams. Don't feel bad if they misjudge you because of your age, wisdom lives in the age of your soul. No goal is far way, but you can get away from your goals if you're not careful. So, don't ever let you go, and run after your dreams. Your dreams are real, they materialize every single time you talk about them, when you do something for them, when you're casting your glance beyond the only face you see of the cube… Life itself is like a cube. It's got many faces, but people usually see only one. They think that the cube will shift and rotate over time, but that's not going to happen. It's you who have to move, in order to see other faces. Because the one that's visible is often the one that shows difficulties, and negativities. And the other ones show freewill, they can lead you to your dreams.
Everything takes time. But nothing you do will be in vain. You'll see the results, it might take a long, long time. But you'll see them. And always bear in mind that big achievements are dreamt by crazy people, accomplished by fighters, and criticized by the useless ones.
In order to live off art, first you must know what art is… life is a beautiful work of art.
Melisa: if you think that drawing, singing dancing and acting is all in vain, and that applying yourself 100% to an artistic endeavor is pointless, then you're wrong. I'm 22, and I decided to do what I really love. And some doors are opening up. Before, I used to do what they told me was good for me. And it never felt that good, and I wasn't going anywhere. The soul of an artist has got an inner light, and it can't shine when doing a "regular" job – the kind people always say you must get to pay your way. That's no good. You must do what you want, and keep at it. And when you finally make it, then you'll look back and laugh. You must be patient, and do it all from the heart. Time and again, until you succeed. That's what I keep saying to myself, that's the lesson Super Junior and SJ Female taught me.
Links: