(Click here for the English version of this post)
Lo prometido es deuda, finalmente les traigo las fotos del lanzamiento de "Once".
En primer lugar, la editora Carmen Galusso presenta a los integrantes de la mesa y cuenta el proceso de trabajo que culmina en la edición del libro.

Luego, el profesor de literatura Fabián Severo nos ofrece una excelente disertación. Es la primera vez que escucho una opinión crítica sobre mi libro, y me resulta muy interesante ver que estrofas y versos resalta. Pueden leer su disertación aquí.

En tercer lugar, el logoterapeuta Alejandro de Barbieri Sabatino lee el prólogo del libro, como así también tres poemas que accedió a recitar para la ocasión.
Finalmente me toca hablar a mí. Es un momento muy especial, rodeado de todas las personas que quiero. Me resulta francamente emocionante. Pueden leer mi disertación aquí.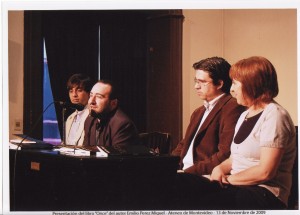 Como primicia, ya les puedo anunciar que mi primer libro de composiciones en inglés va a salir a fines de este año, o a comienzos del próximo año a más tardar. Ya lo tengo listo, pero es necesario que el público pueda asimilar "Once" antes.