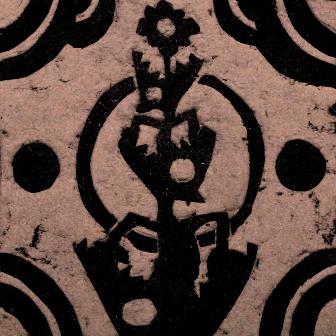 (English version of an article first published on Cooltivarte.com)
It is a strange dusk. There are flowers from other springs, there is a world that spins around but a heaven that stands still, as if it no longer had a reason to exist, but which stands there for lack of a better frontier to aim for.
And it is a strange dusk simply because all which is connected with the end of feelings is strange. And you know the night will have a bosom that will expand like a century of memories, way beyond hope, deception, and each and every glimpse of mercy there could ever be. And way, way beyond that yesterday in which everybody dares to say "tomorrow".
Such is the context of the album under review right now: "¿Sueñan los Lobos con Ovejas Lunares?" [Do Wolves Dream of Lunar Sheep?] by ¿Lobo Está?, the solo project of Gonzalo Saavedra, a musician from the City of San José who was a member of the now-defunct band Pueblo Viejo [Old Town]. The album (get it here for free) has been helmed by producer (and frequent instrumentalist) El Niño Que Toca Fuerte [The Child Who Makes A Racket], and it features Emiliano Pérez Saavedra on drums and Juan Chilndrón on bass. And Matías Gonzáles (from Vincent Vega) has a guest spot on the song "Viento" [Wind].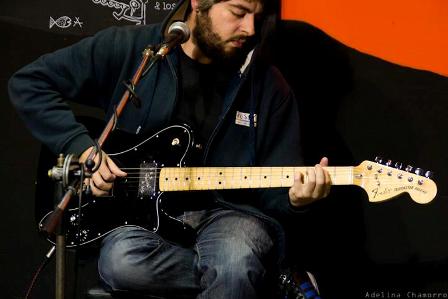 All of the songs included on the album come together and then come undone throughout that strange dusk. They are there  at that time in which lots of things end, and many others have a chance to truly begin. Gonzalo himself says as much as "Entrego Mi Cuerpo Al Viento" [I Yield My Body To The Wind] starts playing:
Todo lo que fuimos no será nada
Comparado con lo que seremos
[All we have been will be nothing
Compared to what we will become]
When the CD begins spinning, the tone is more or less conciliatory. But the message mutates very swiftly indeed, as if all these things that have already come and gone became a clamp of angst, a hindrance to all these things the future could hold. Darkened rooms are opened, and truths are revealed. There are words which become unpronounceable, and reasons no logic could abolish.
"Entrego Mi Alma Al Viento" is surrounded by songs such as "El Túnel" [The Tunnel], "Mañana" [Tomorrrow] and "Invierno" [Winter]. In all cases, these songs partake of the insecurity that characterizes every ending, and reality is transformed in a way that creates either a pact of silence, or the longing for a vicarious exaction.
On "El Túnel", a fear which is strafed both by ineptitude and by guilt grabs hold of the soul and refuses to ever let it go. To think about time all the time ("Mañana") is the most untimely of duties. And doubts can vilify even the freest lives in a song such as "Invierno", and the enumeration of a past which wasn't that wearisome to begin with ends up sounding like a joke that nobody has even told.
And as the album is running its course, one finds songs such as "Slumberland" and "Doppelgänger" which are singled by a burning desire to turn back the tide, and set to right these things that either inexperience or pride (or both) brought down the first time around.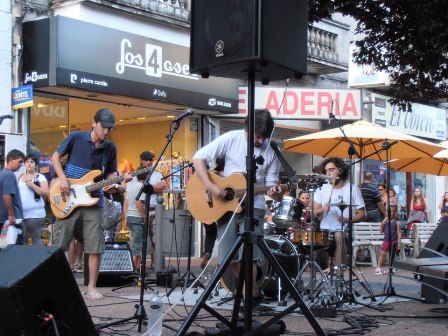 There are two standout compositions on "¿Sueñan Los Lobos Con Ovejas Lunares?". They are "El Túnel" because of its drive (the song was picked as the album's first promotional single) and "Los Muros" [The Walls], if only because the sound is so functional, and the arrangement is incredibly precise. Since Gonzalo renders the song all by himself (and using nothing but an acoustic guitar) what comes across is the true sense of claustrophobia which lies at the root of the song. "Los Muros" had actually been around for a long time – the song was originally written for Pueblo Viejo, and the band tried to record it several times. Yet, they could never agree on the right arrangement for it. And now it's clear why: there's not such a thing as a "band" arrangement for a song which is that personal.
And the album also includes one of the two tracks that had previously been issued on the first single by ¿Lobo Está?, "A Dos Segundos De Vos/z" [Two Seconds Away From You]. The song has now got a much more fractioned sound and (as a result) it suits the whole scheme of the CD superbly.
And (even more fittingly), the last number is titled "Delete".
There are things we must remove from our lives if we want to make room for others. That is obvious. But it doesn't reduce the amount of pain that we are going to suffer. And it doesn't save us from being exposed to a darkness which is as huge, naked and horrible as only the truth can be.
Yet, the darkest hour is always the one before the dawn. And that's where the value of this album lies. "¿Sueñan los Lobos con Ovejas Lunares?" highlights the fact that our biggest conquests are the ones which expose us to our biggest losses. And both things go hand in hand when we choose to forge a relationship with someone.
The pain and the angst will be there, in the middle of the silence surrounding each and every disaster, in that silence which exists only to be heard.
Because we know that everything is going to be similar, but it will never be the same.
There are so many roads that go inside. And counting these ashes that we can still pour is the only thing that will let us come to terms with reality.
And our only hope at the end of the day (and once that strange dusk has sealed the spaces within us) is that all these things which matter don't matter more than they should.
Download the album for free:
http://www.mediafire.com/?d6w9fj0s6ev2ps1
¿Lobo Está? on Facebook
http://www.facebook.com/contactolobo
¿Lobo Está? on Bandcamp
http://loboesta.bandcamp.com/album/sue-an-los-lobos-con-ovejas-lunares
El Niño Que Toca Fuerte (Producer) on Facebook
http://www.facebook.com/elnino.quetocafuerte