You need more than Chuck Norris to save the world. You need people with courage, determination and a lot of heart. People who know the meaning of the words "sacrifice", "honor" and "integrity". People who would die for their ideals, and more.
While we keep looking for them, I'd like you to become acquainted with this new Uruguayan band. They're called "Flanger", and they're a quartet which plays hard rock & roll. And they manage to do that in spite of their tender ages!
Don't believe it? Well, this is the guys at their best:
Their influences obviously go from this:
To this:
The band is made up of Nicolás Pastorini, Fernando Pastorino, Martín Neme and Luis Canobra. I can't remember who plays what right now – let's just assume they're all multi-instrumentalists who give Eddie Cochran a run for his money, right?
Right…?
Nicolás Pastorini sings and plays the rhythm guitar, Fernando Pastorino is the lead guitar player, Luis Canobra is on bass and Martín "Tincho" Neme beats the skins. They're all remarkable musicians, yet their lyrics still have a long way to go.
But who listens to young rockers for the lyrics? If you do, then you've got a good couple of things to learn about life…
For example, Santa Claus doesn't exist!
And neither does Edward Cullen! Or Bella Swan!
Listening to youngster because of their lyrics!! Do me a favor…
I mean, that's comparable to saying you watched "The Secret Circle" for the dialogues! The dialogues!
Well, you know what?
I did.
The dialogues were great.
Luke, I am your father!!!!
(Truth be said, the only cast member that could act at all was the little emo guy)
(No wonder they cancelled that abomination of a show)
The best thing about Flanger is that even though they're young, they're really giving music their all. They've got BIG plans for the future. MASSIVE plans. They're recording a new batch of songs, and these stand as an eclectic mixture of styles, an alchemy of melodies and a caterwaul of emotions. But that's all I'm going to say. I HATE spoilers.
I do.
I despise those who spoil other people's fun!
I mean, don't they have a life?
They're sadder than the scene in which Arya Stark goes blind in "A Dance With Dragons"!
But they're also happier than the scene in which she regains her sight! Phew!
I must admit, now, that Flanger has got one of the best websites I've seen in a long, long time. It easily beats even these sites that cost a fortune, and which only high-ranking Uruguayan performers can afford. Check it out – it's easy, just click on the photo of the band in which they are NOT drunk, and hey presto!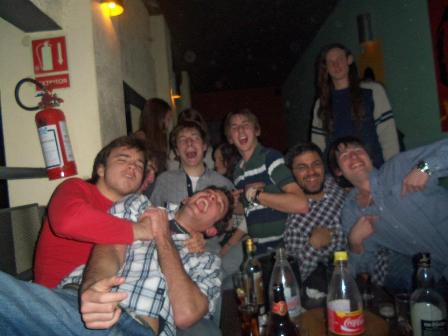 (Well, you can always visit their PureVolume profile)