More sights and sounds from Montevideo, the Ibero-American Capital of Culture 2013!
This new band is called Marvin Bridge & The Haddocks. It's made up of Nikolas Araujo on drums, Martin Lyon on guitar, Max Ruano on guitars and vocals and Rafa Martinelli on bass.
Before going any further, I must tell you something: this band was new when they originally got in touch with me. That was about the time our national soccer squad was casting an almighty shadow over the whole of South America, so go figure…
Well, the fact I took my time to review Marvin Bridge & The Haddocks was actually a good thing. Because they have released their best work ever in the interim, an EP called "Abadejo" [Haddock]. Every cloud has a silver lining…
A leopard cannot change its spots…
And nothing lasts forever.
Except Pi.
3.14159
265358979323
84626433832795
02884197169399375
…
Dude. That shit goes on and on and on…
Anyway, this band was started in early 2011, and they lean a lot on 60s rock & roll and psychedelia. But their music also takes some detours along the way, and genres such as reggae and psychedelic-folk are visited more than recurrently.
Their influences include The Rolling Stones, The Doors, Pink Floyd, The Beatles, David Bowie, Bob Dylan, Marc Bolan, The Pixies. I mean, they're evident. They surface at every turn, in a magnificent outpouring. Any discerning person would name these bands the first time around he listens to their music.
I just didn't copy and paste that bit from their Facebook fanpage. And I didn't forget to delete the comma between "Marc Bolan, The Pixies" and make the sentence read "Marc Bolan and The Pixies" to hide such an egregious maneuver, either.
The band's discography is made up of an eponymous 6-song EP which was self-produced and self-made, a second EP named "Through The Gates Of Joy" which came out in January 2012, and which featured 8 songs, and then there came the 6-song EP "Abadejo".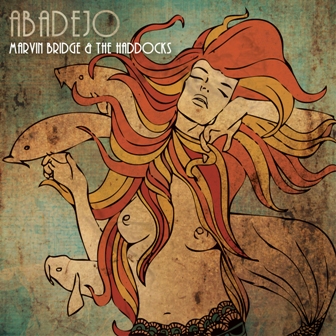 Their first two works are quite even in terms of quality, energy and imagination. I tend to like the first one more, for some reason the band seems to be having more of a blast as they run though their songs, and that's always noticeable. Yet, the second EP wins in terms of production, hands down. (Both "Through The Gates Of Joy" and "Abadejo" were recorded at The Road Studios.)
And "Abadejo" is clearly the one for me. The songs are ominous even when the sound is subdued ("Through The Gates of Joy", "Royal Flush" – almost a bonafide 60s artifact), and the more frantic cuts (such as "Honeyfall") stick like a needle in your brain.
It's just the perfect collection of songs to play on the background while you're collecting garlands of freshly cut tears in Vienna.
(Note to self: DON'T LISTEN TO LEONARD COHEN WHILE WRITING REVIEWS)
The best thing are the lyrics, which are consistently interesting. The band's vocabulary is admirable. They even use the word "vividly" when talking about themselves on their bio.
Awwwwww! Shucks!
That's adorable!
Let's make a sandwich!
…
HEY! HEY!
Hang on a second! The bio also says that they won a contest! For a tea brand!!!!! What the…????
13th Floor Elevator would never have done that!
(They ended all braindead or bankrupt. Or both. But that's besides the point…)
The thing is, if you're going to win a contest, at least win one for a brand of beer!
I'm so disappointed.
Look what you've done. You've made a fool of everyone!
My interest for this band has vanished in thin air.
Sorry, folks.
I'm just not sharing download links for your music on MusicKO.
UDPATE:
Immediately after publishing this post, I tried to contact the one member of Marvin Bridge that was my friend on Facebook, to let him know the band had finally been reviewed on MusicKO.
To my surprise, he had unfriended me some time ago, and I hadn't even noticed!
Yes! That's rock & roll for you! He did it! He unfriended the journalist! You rebel! I like that a lot.
You've got my respect now. I'm putting the international tea thing behind us!
Let's be friends again! It makes just too much sense!
I'm a person whose life is a musical dream. Just like you. The selfsame stars shine over us when we're sleeping, and set our dreams awash with melodies pure as the mountains of the sea. The music of the quadrangles reverberates through our souls, as in wondrous and immense symmetry…
And if we're not friends, it's impossible for me to tag you on Facebook, and get all your friends to like MusicKO? OK?
You can get the band's EPs by clicking on the links provided below. They're 100% free. Come on, download them. I mean, you paid to see Chuck Berry the other day! What's your excuse?
Marvin Bridge & The Haddocks
Through The Gates of Joy
Abadejo
And you can also listen to their first two EPs online: